Planet Earth Arts was founded in 2014 out of our conviction that environmental and social justice are the most urgent issues of our time, and our belief that the arts, in collaboration with the sciences and humanities, must play a leading role in transforming the human presence on our planet from a destructive role to one that is mutually beneficial to the entire community of life. 
We collaborate with actors, playwrights, directors, photographers, choreographers, dancers, musicians, writers and visual artists. Planet Earth Arts supports them by commissioning, presenting and showcasing their powerful transformative work – confronting and illuminating climate change, mass extinctions, threats to oceans, habitat loss, sea rise and the struggles for environmental justice. 
Planet Earth Arts acknowledges that we are on the ancestral and unceded land of the Muwekma Ohlone Tribe. This land was and continues to be of great importance to the Ohlone people. As uninvited guests on these lands, we are the beneficiaries of the ongoing displacement of the Ohlone people. We pay our respects to the Native peoples, past and present.
Planet Earth Arts supports the Sogorea Te' Land Trust with an annual financial contribution. The Trust is an urban Indigenous women-led land trust based in the San Francisco Bay Area that facilitates the return of Indigenous land to Indigenous people.
"You cannot have climate justice without racial justice. It isn't justice if it doesn't include everyone."
With the brutal murders of George Floyd, Breanna Taylor, Ahmaud Arbery, Rayshard Brooks, Maggie Long and Pak Ho, among too many others, we confront a continuum of unbearably cruel and tragic moments in the 400 + year déjà vu nightmare that continues to haunt an America plagued by the deadly cancer of racism – enforced through White Supremacy and enabled by our White Privilege.

We acknowledge the suffering and resilience of all people whose lives and livelihoods were stolen by those with power, including but not limited to the millions of enslaved African American people. The devastating effects of these injustices continue to be felt today. We acknowledge everyone who has a lived experience of oppression, be it racism or sexism, classism or ableism, transphobia or homophobia, or any other form of oppression. To ignore oppression is to assent to oppression.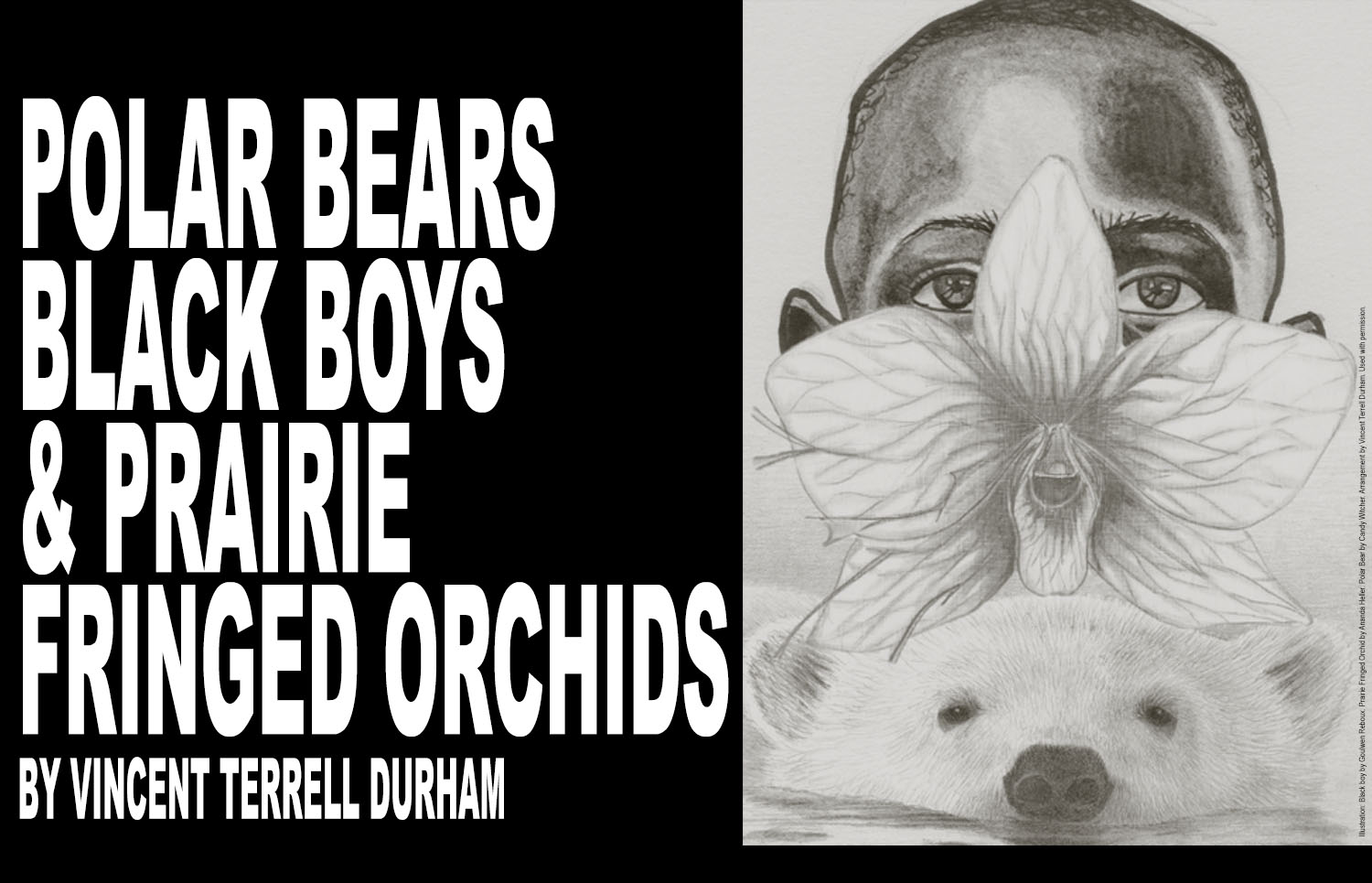 Illustration: Black Boy by Goulwen Reboux. Prairie Fringed Orchid by Ananda Heller. Polar Bear by Candy Witcher. Arrangement by Vincent Terrell Durham
"Black boys need to be put on the endangered species list."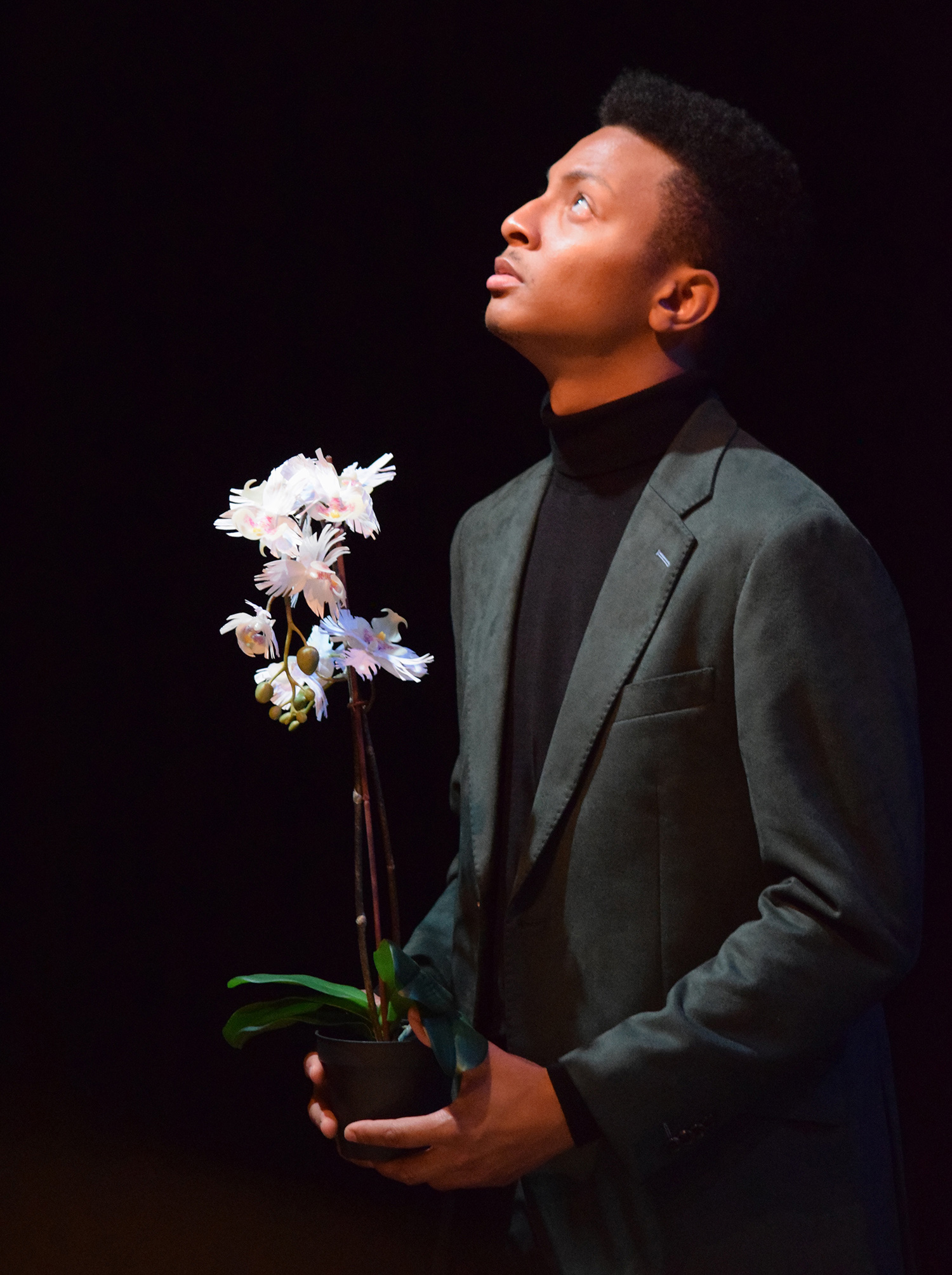 This incendiary provocation, spoken by the white lover of a Black Lives Matter activist at a Harlem cocktail party, encapsulates the issues of race, class, sexual identity, biological extinction and police violence against Black bodies that are explored so powerfully in the acclaimed new play Polar Bears, Black Boys and Prairie Fringed Orchids. With a perfect blend of biting wit, pathos and humor, the play speaks to some of the most profound and urgent issues at the heart of America's reckoning with race.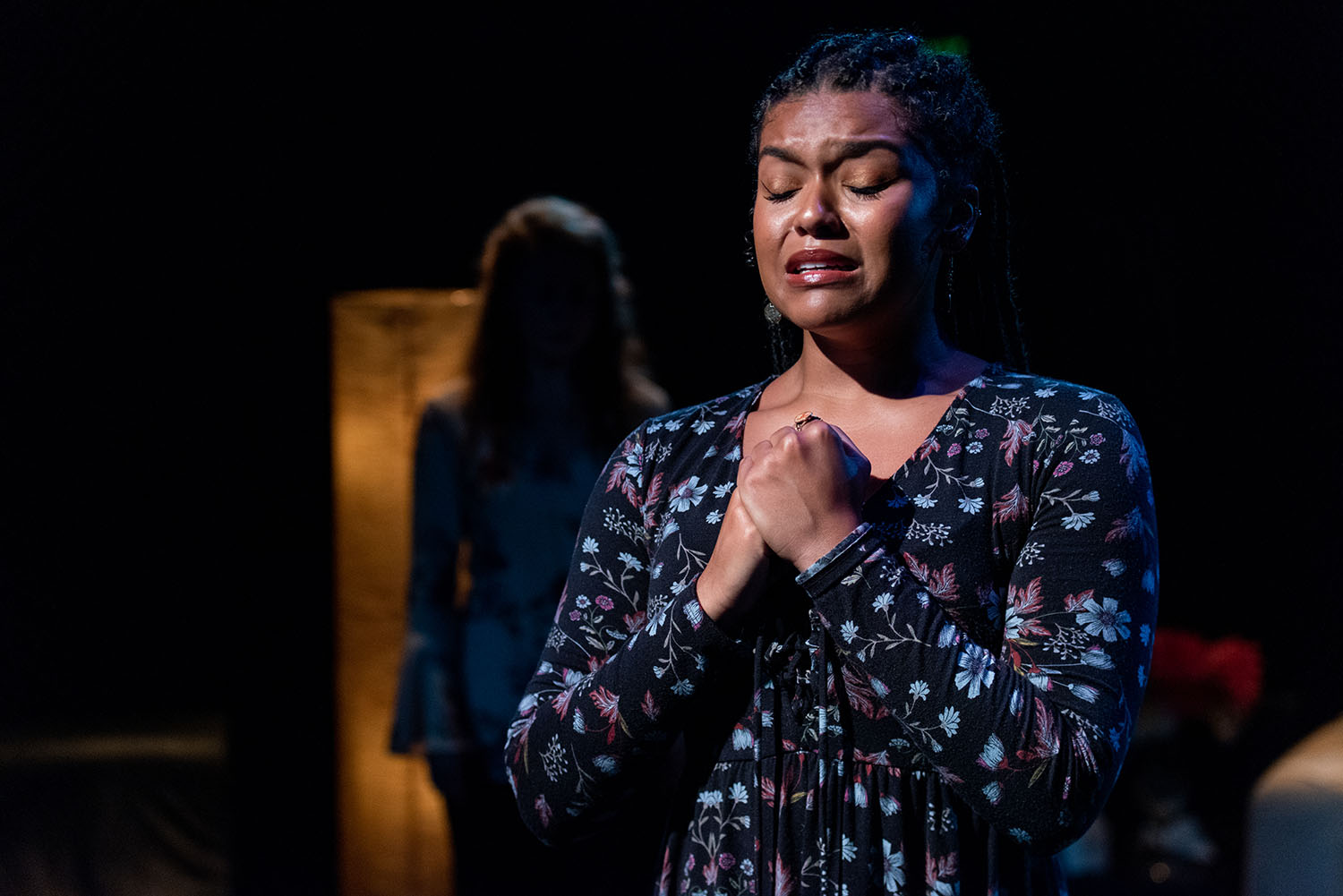 In 2016 Planet Earth Arts , in collaboration with PlayGround, commissioned Los Angeles playwright Vincent Terrell Durham to develop a play about the explosive encounter between white environmentalists and the Black Lives Matter movement. 
Polar Bears, Black Boys and Prairie Fringed Orchids was first produced with Stanford Repertory Theater as part of our Environment and Social Justice Festival in 2019. Since then, the play has had professional staged readings in Chicago, Dallas, Los Angeles, Houston, Seattle, Tampa, San Diego and Albany. The play also inaugurated the Juneteenth Theatre Justice Project, and a national live stream on Zoom raised $150,000 for the Fund for Black Theater in the US.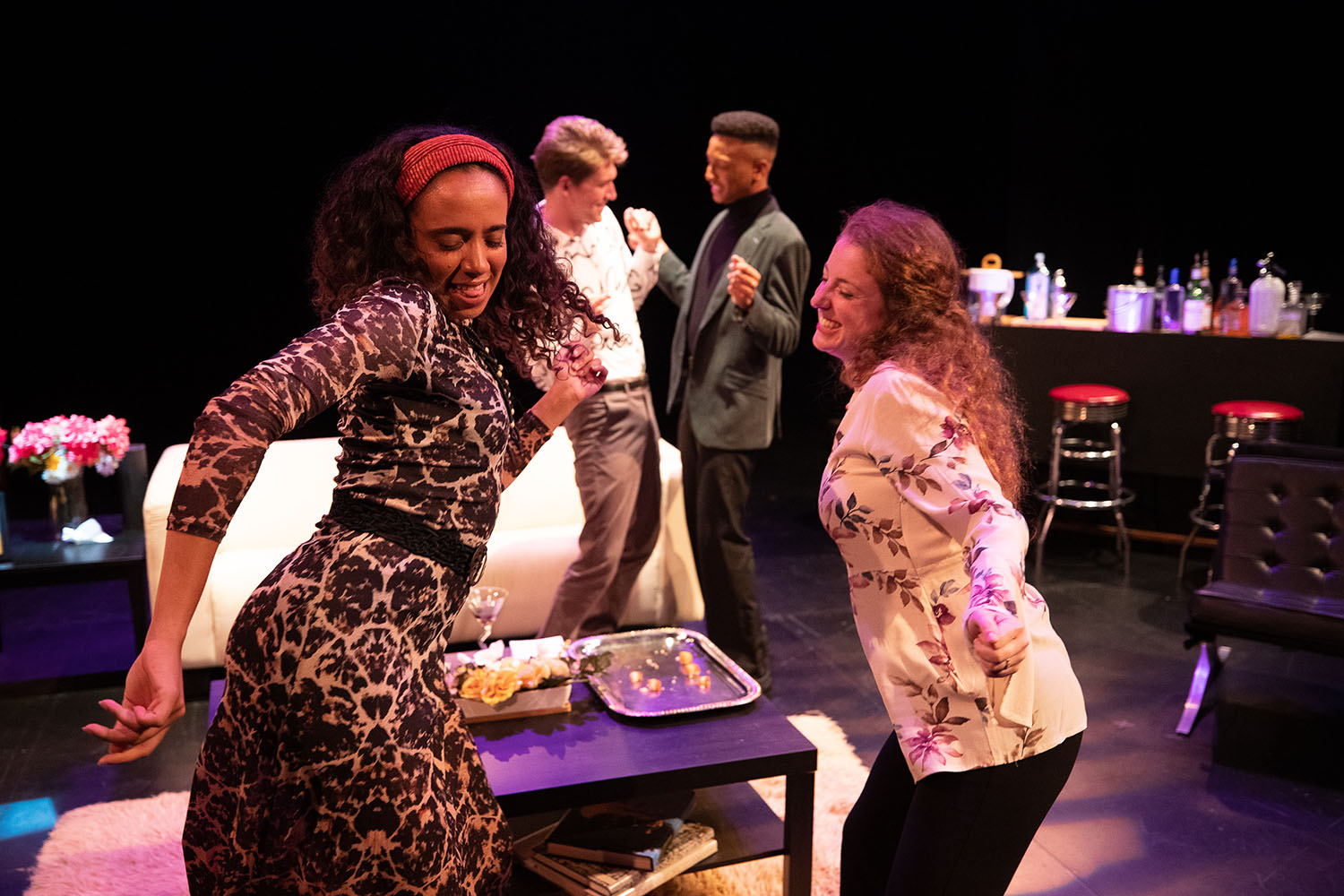 "The reason I wrote the play is that I wanted audiences to spend an evening getting to really know the full, rich, complicated inner life of a Black man – not just what we see on the TV news."
– Vincent Terrell Durham, Playwright
Planet Earth Arts New Play Festival
From the Greeks to Shakespeare through to August Wilson in our own time, theater has always been one of civilization's most powerful art forms for exploring the human condition and mirroring the burning issues each generation faces. In an interview in 2014 playwright Tony Kushner described climate change as "without question the greatest danger that the human race has ever faced and everything that is good about humans will need to be summoned into this fight." 
That same year we launched the Planet Earth Arts New Play Festival  at Berkeley Rep and at Stanford University, in collaboration with PlayGround and the National Center for New Plays at Stanford, to inspire playwrights to create bold new works for the stage that explore issues of planetary sustainability as well as environmental and social justice.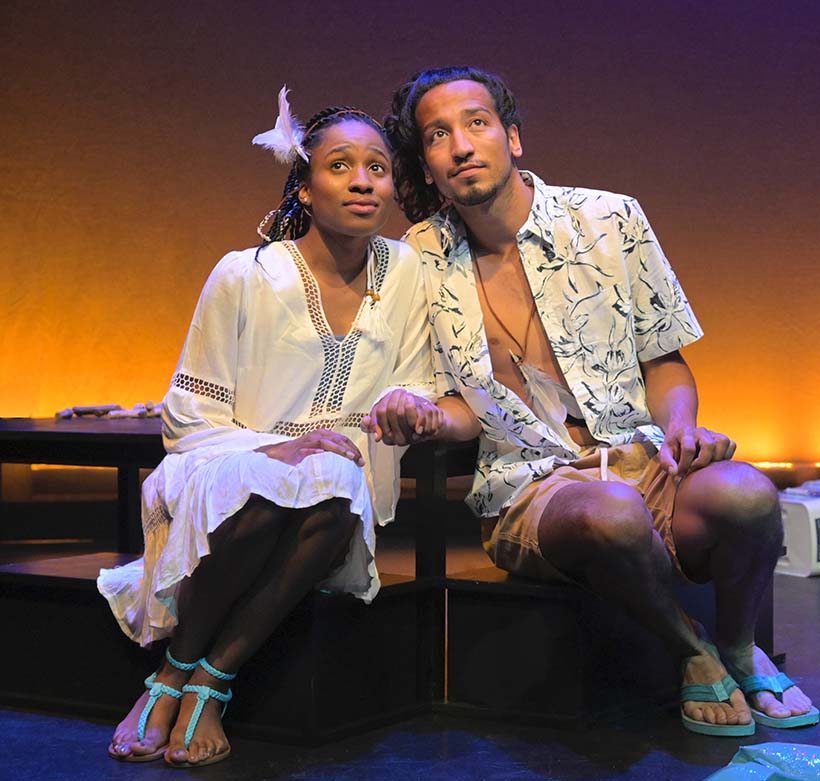 For the past seven years Planet Earth Arts has worked with more than 75 playwrights from PlayGround's Writers Pool in the Bay Area and Los Angeles inviting them to write original short plays inspired by environmental and social justice issues. Each year six of the plays have been selected for a rich evening of staged readings at Berkeley Rep, Stanford and a Los Angeles theater, featuring professional actors and directors. Since the onset of the Pandemic the plays have been presented via Zoom live stream.
The Planet Earth Arts New Play Festival has generated a living library of more than 200 short new plays about climate change, mass extinctions, threats to our oceans, sea rise and environmental justice. In addition, Planet Earth Arts, in collaboration with PlayGround, has commissioned 15 new original full-length or one-act plays – several of which have had World Premiere productions in San Francisco at the Potrero Stage: PlayGround Center for New Plays.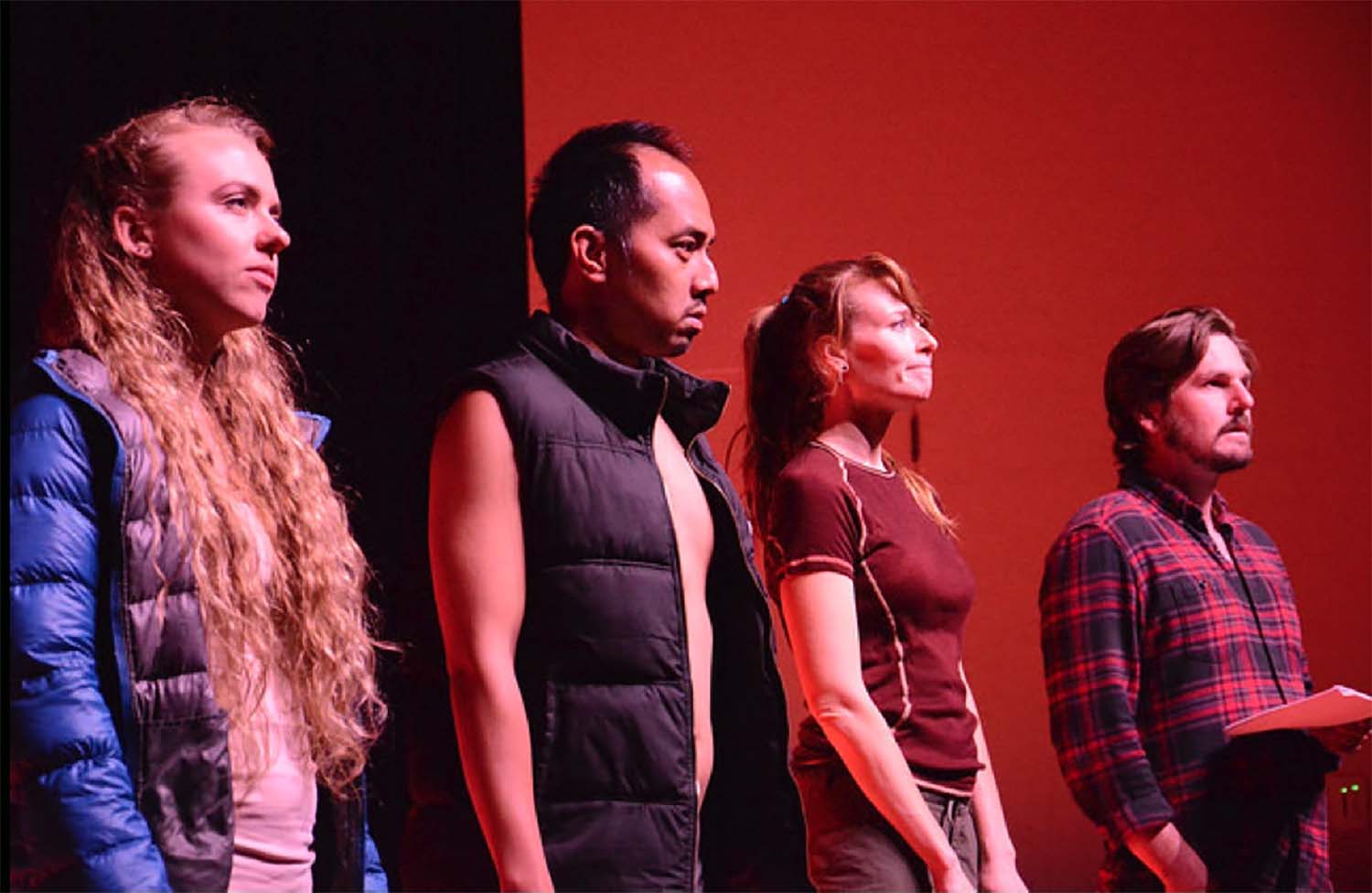 Millie DeBenedet, Stephanie Prentice and Michael Barrett Austin in Reading Babar in 2070  by Rachel Bublitz.
In the slightly distant future parents reading this beloved children's classic to their young daughter are forced to come to grips with the devastating consequences of their own environmental apathy.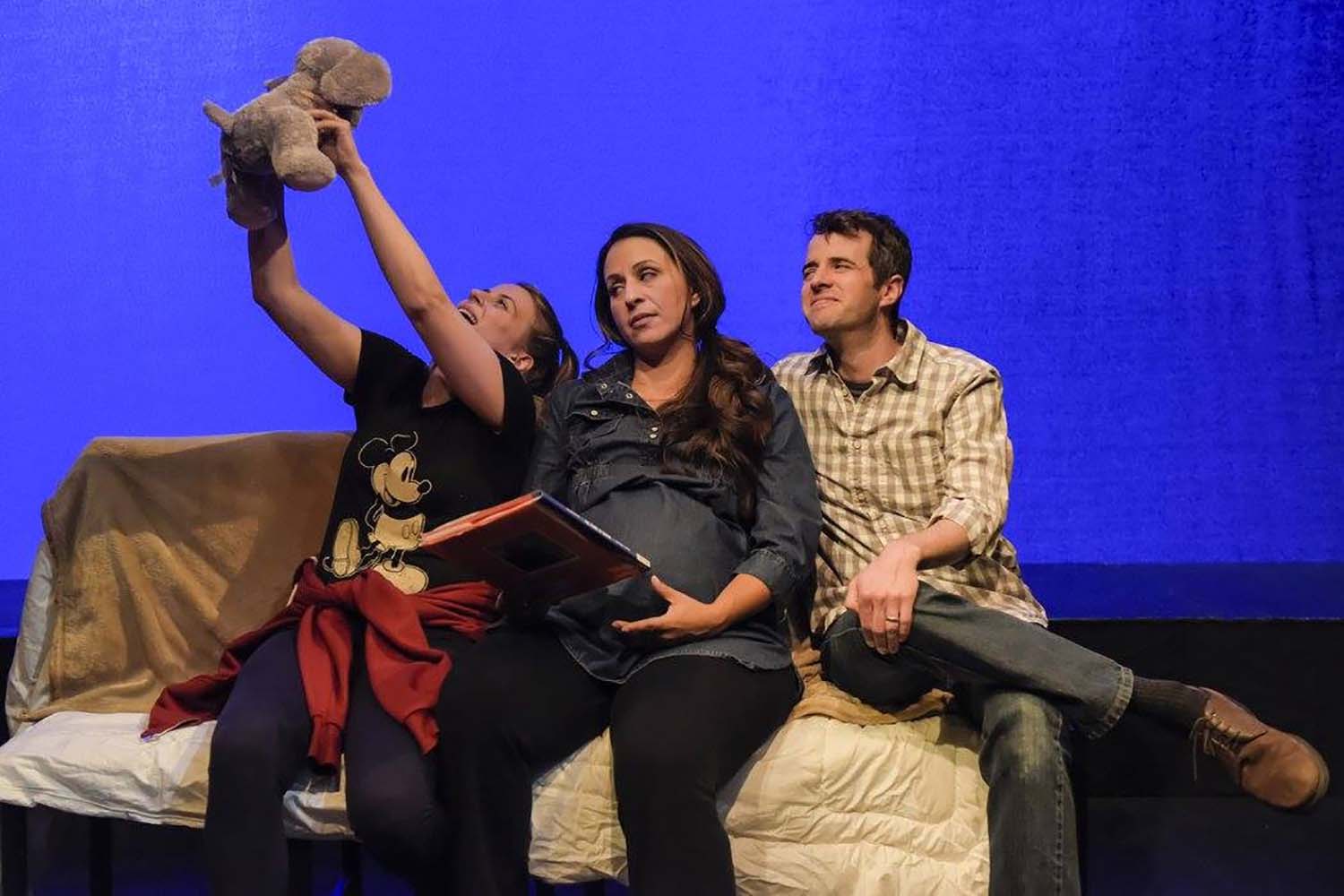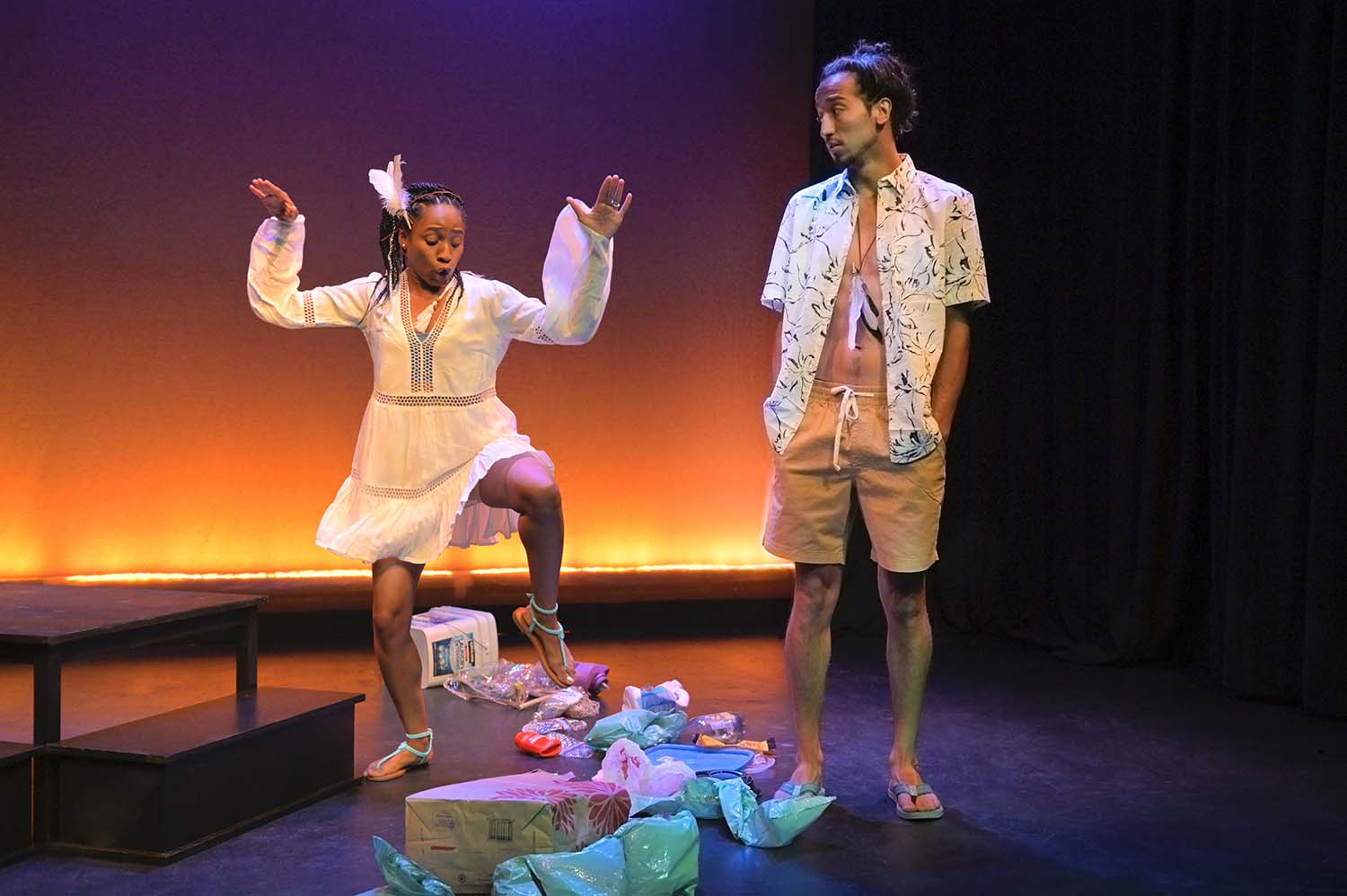 Angel Adedokun and Caleb Cabrera in Just As It Is Today  by Tom Bruett.
A pair of nesting birds on a Pacific Island are forced to face the terrifying reality of sea rise.
Lisa Morse and Stacy Ross in Julianne Jigour's poetic "water play", Bright Shining Sea.
Set in drought plagued California six characters find their lives intertwined as they face fear, loss, grief and a world that will never be the same.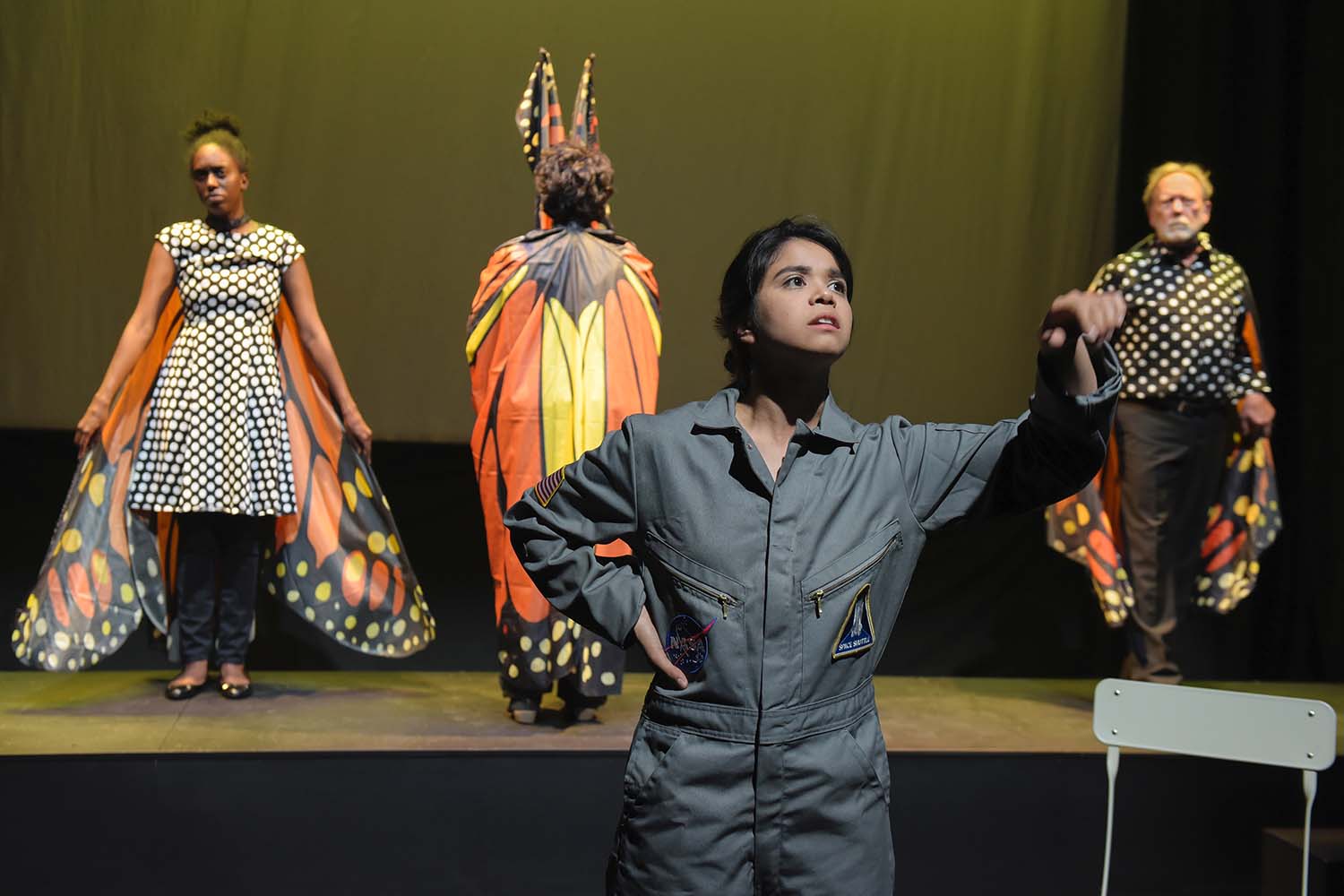 Morgan J. Booker, Michelle Ianiro, Nicole Apostol Bruno and David Cramer in Monarchs in Space by Nicole Jost.
Elena, a Mexican-American astronaut on the International Space Station, discovers that the subjects of her experiments share her powerful longing for home.
Melissa Ortiz, Katie Rubin, Aaron Wilton and Christian Haines in Anna Considers Mars by Ruben Grijalva.
A scientist works to save "uncharismatic species" on a wounded planet Earth while dreaming of joining a one-way expedition to colonize Mars.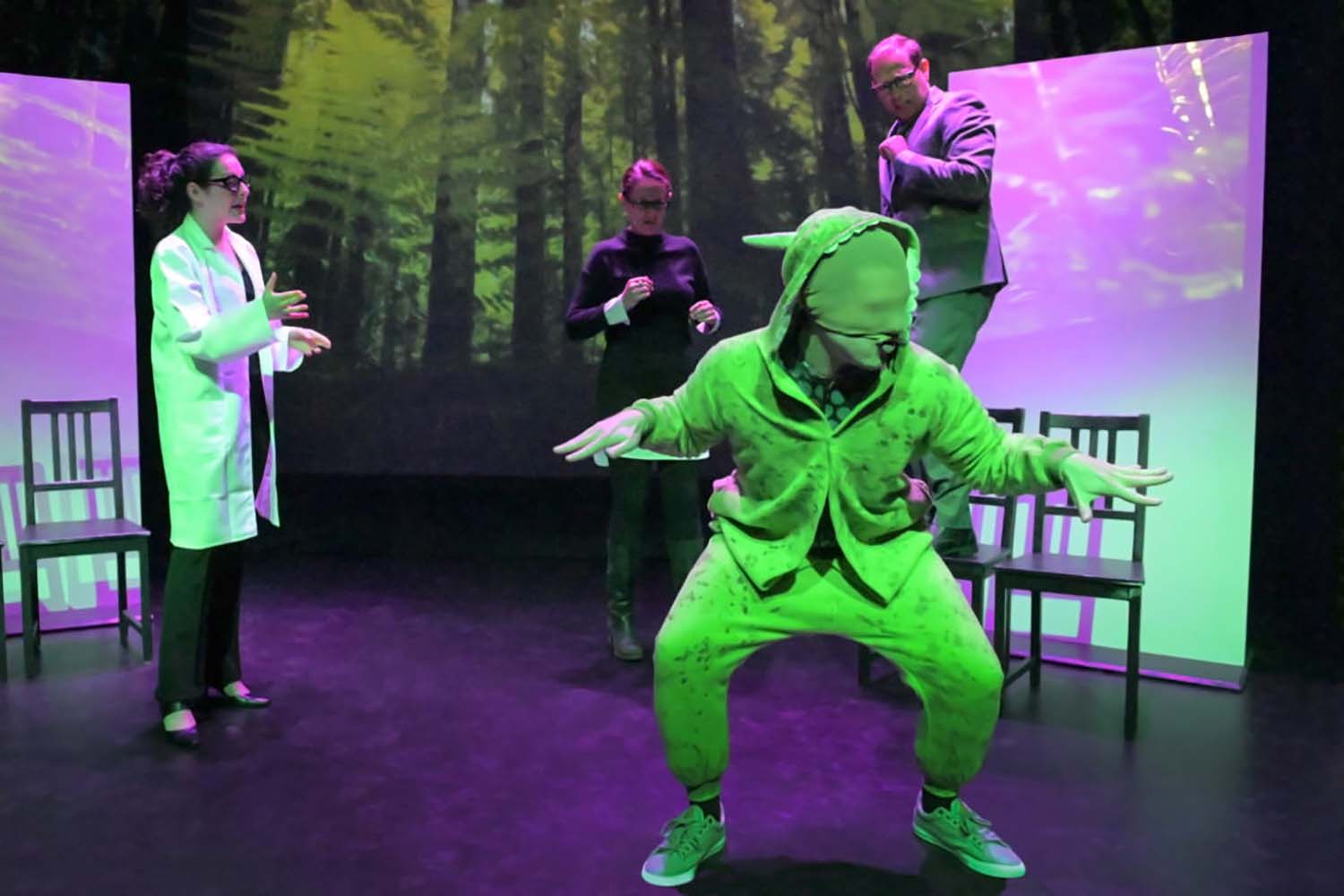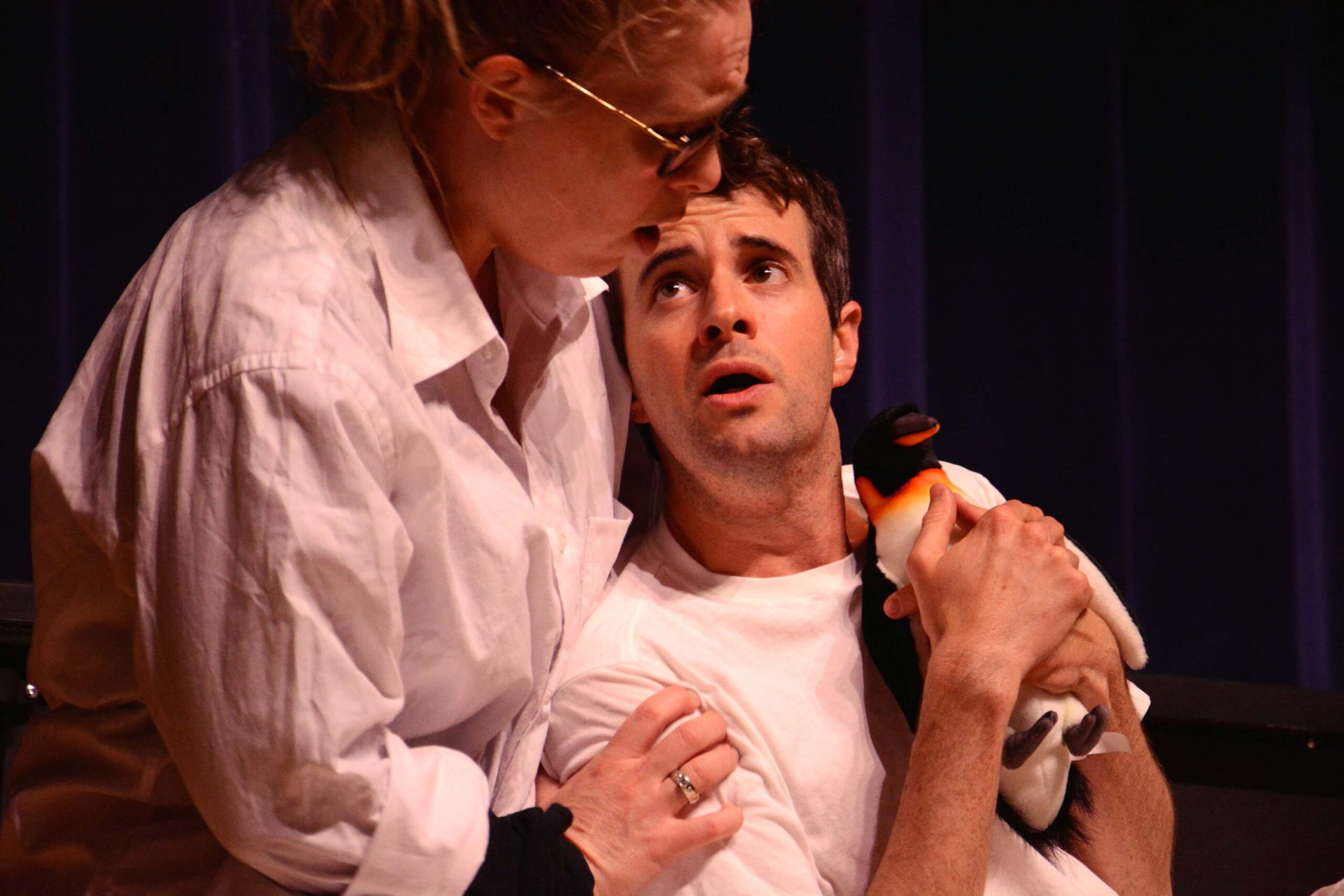 Rebecca Schweitzer and Michael Barrett Austin in The Universe on Ice by Maury Zeff.
Polar explorers Rear Adm. Robert E. Peary and Sir Ernest Shakelton find themselves in a frozen surreal dream world where penguins and polar bears talk.
Liam Vincent, David Cramer, Nicole Apostol Bruno, Michelle Ianiro, Margaret Booker and Robyn Grahn in OR: or, The Play of Light, by Jerome Joseph Gentes.
In this evocative dance-theater piece a cast of characters comprised of physics particles take us on a poetic journey back to the mysterious birth of life in the universe 13.8 billion years ago.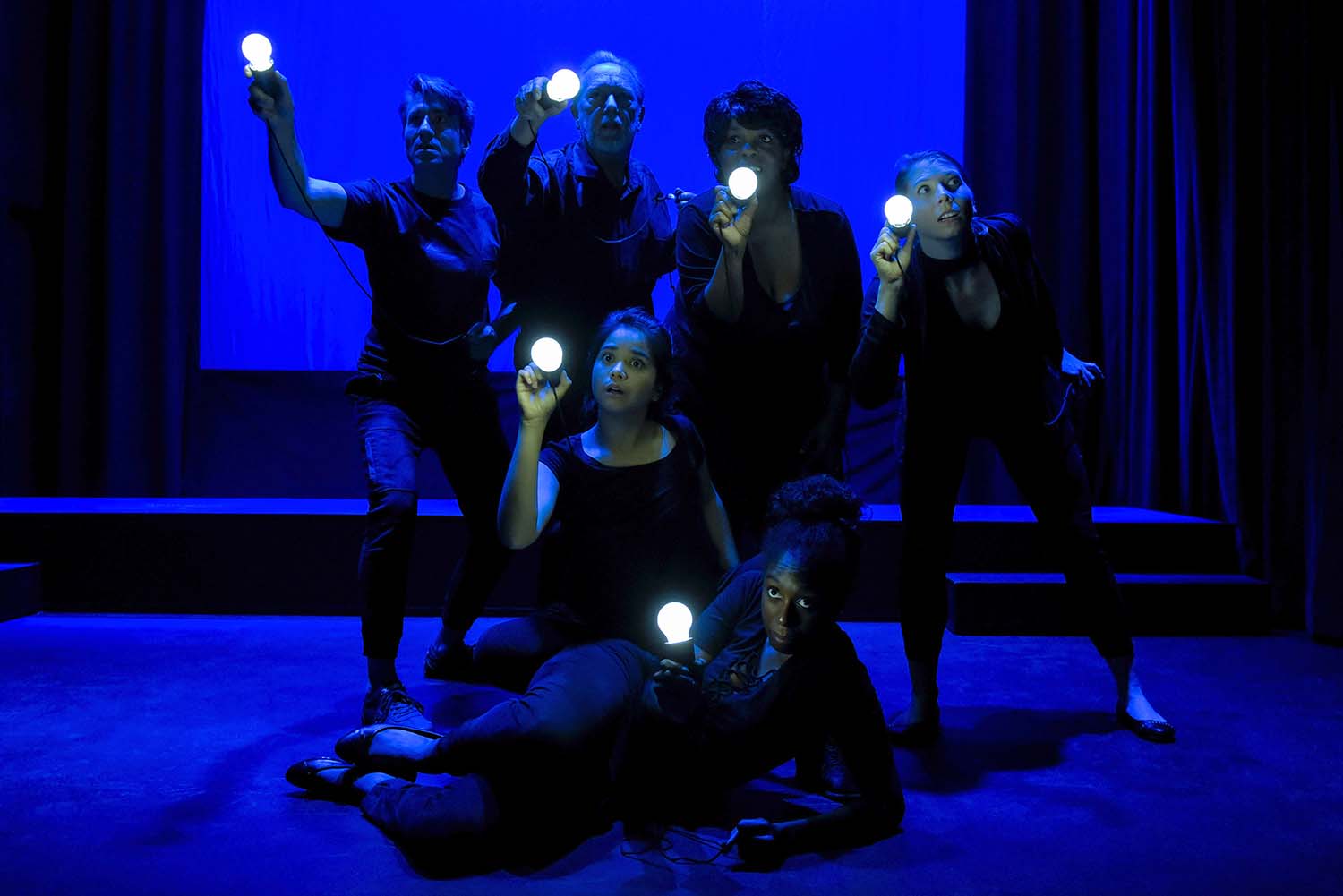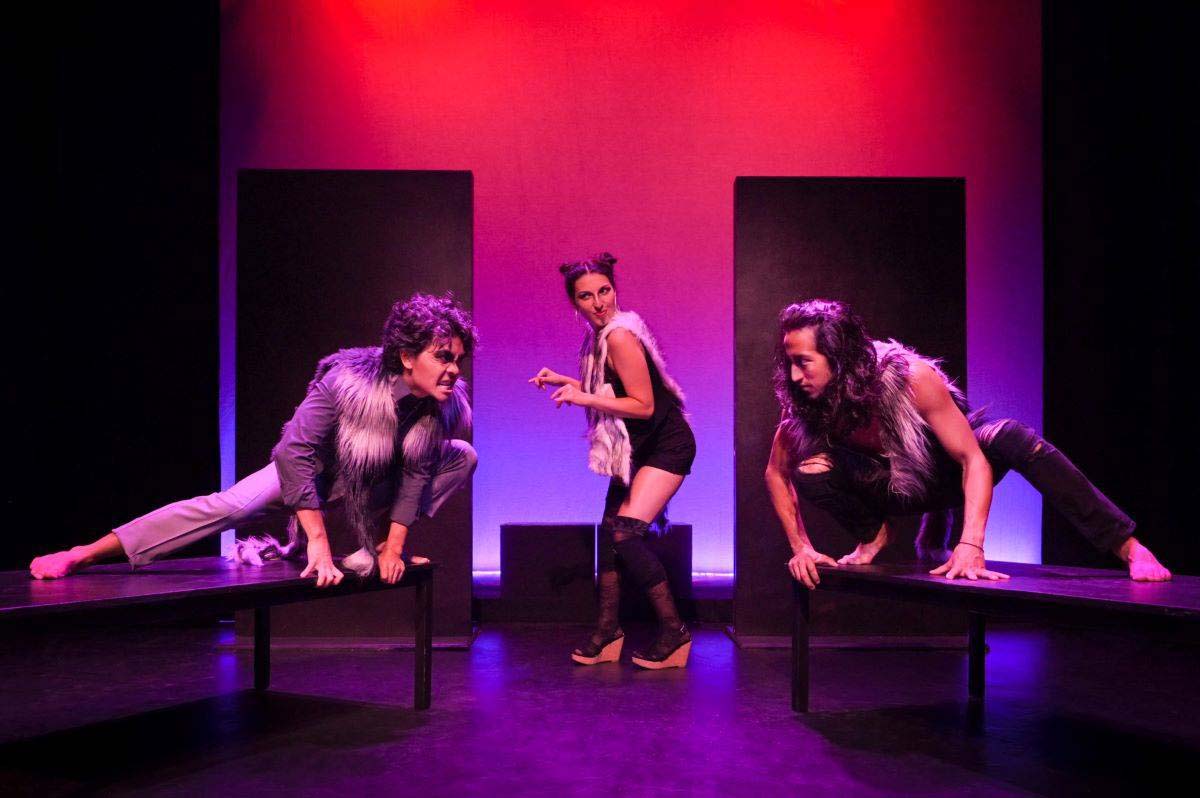 Jed Parsario, Livia Gomes Demarchi and Caleb Cabera in Linda Amayo-Hassan's bi-lingual play La Vida Lobo.
Blocking crucial wildlife corridors, "Trump's Wall" on the American-Mexican border, frustrates two young Grey wolves' amorous pursuits.
Polar Bears, Black Boys & Prairie Fringed Orchids
Sequoiah Hippolyte plays a grieving mother in Vincent Terrell Durham's acclaimed play Polar Bears, Black Boys & Prairie Fringed Orchids about the explosive encounter between white environmentalists and the Black Lives Matter Movement.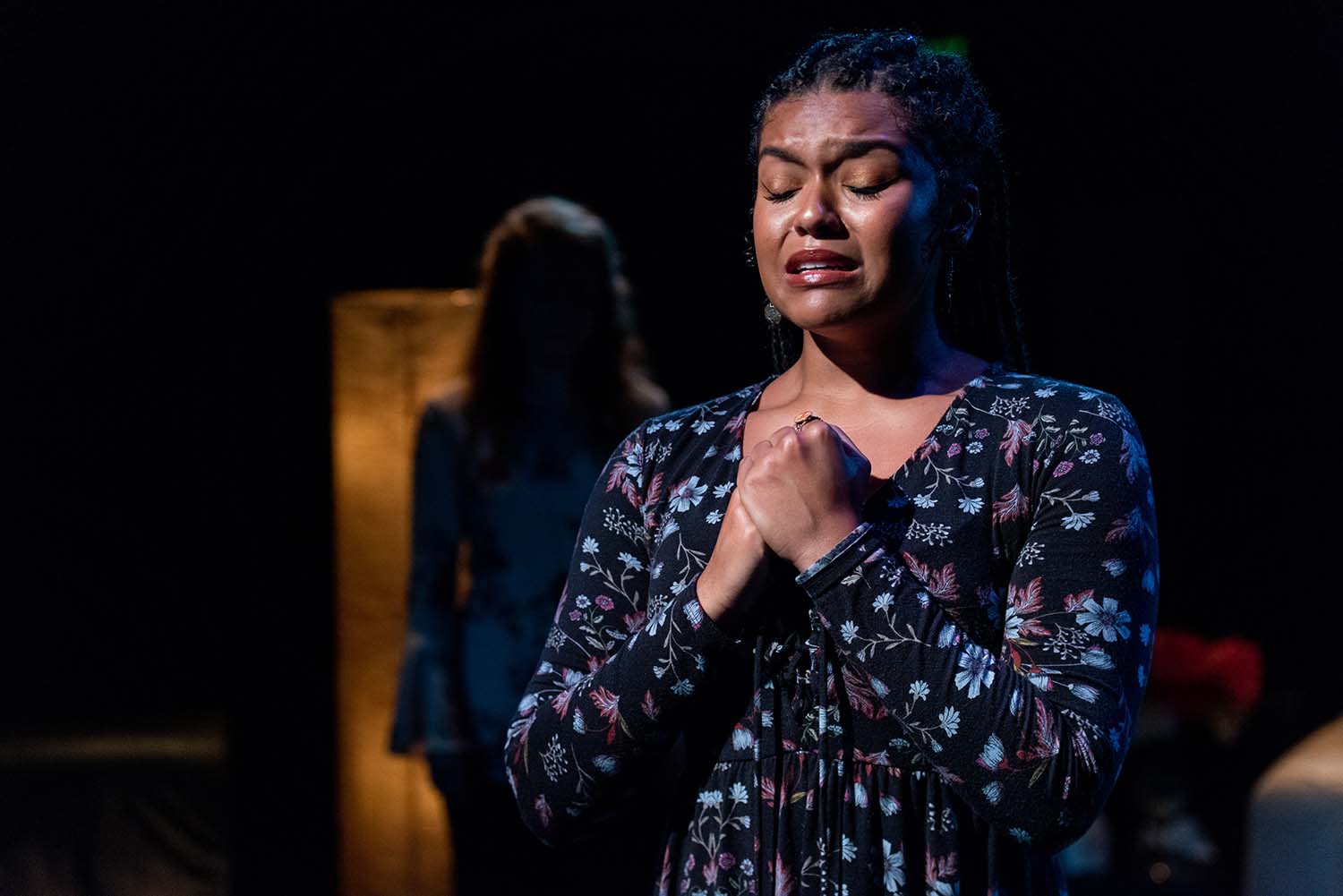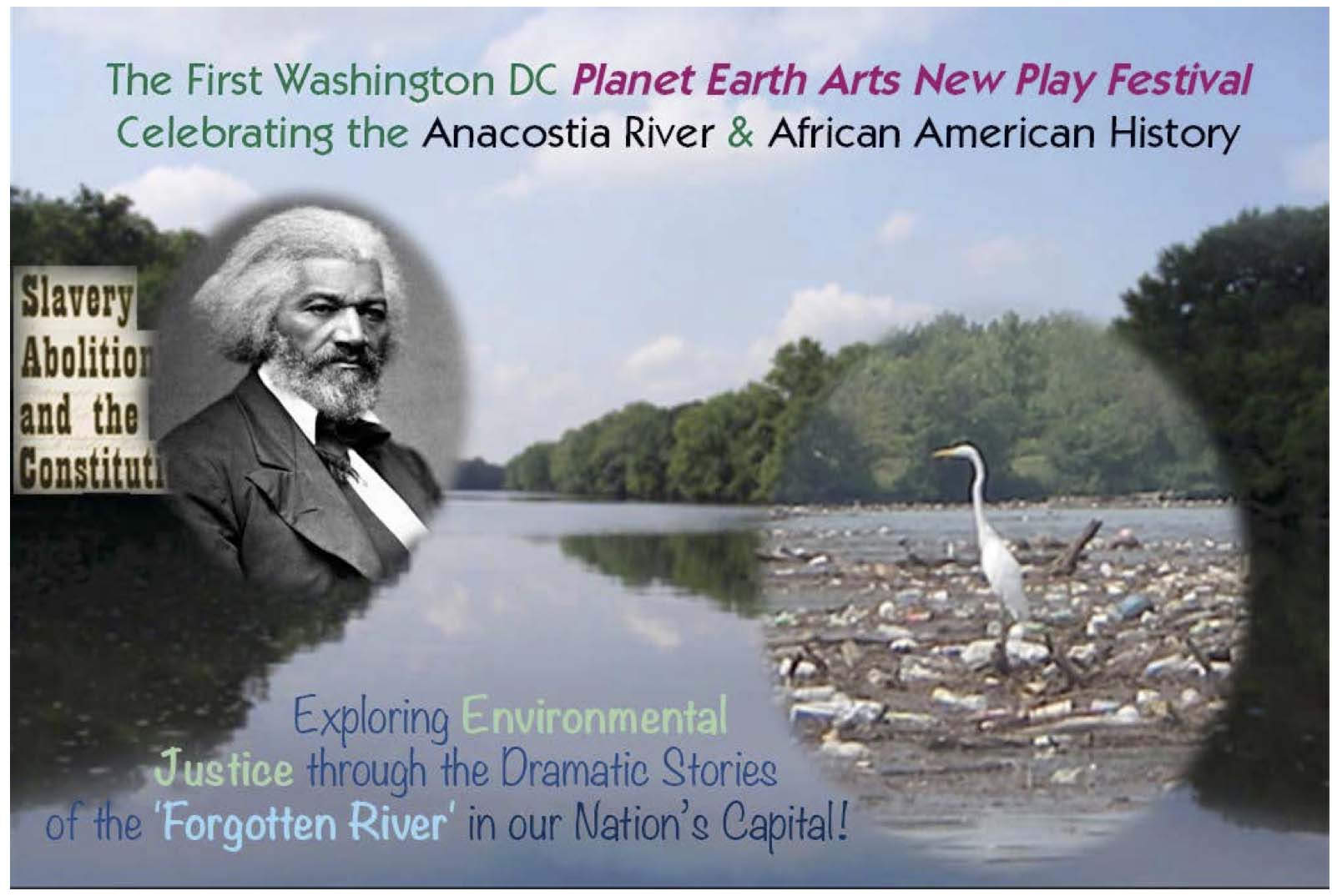 In 2017, collaborating with Theater Alliance and the National Center for New Plays at Stanford, and in partnership with DC's Department of Energy & Environment, we brought the Planet Earth Arts New Play Festival to Washington, DC. Thirteen local playwrights wrote short plays exploring the relationship between an historic African American community in our nation's Capital and the efforts to restore the Anacostia River watershed. Six plays were given staged readings at the Anacostia Playhouse and the Kennedy Center's Millennium Stage. The Festival evening at the Kennedy Center was live-streamed nationally.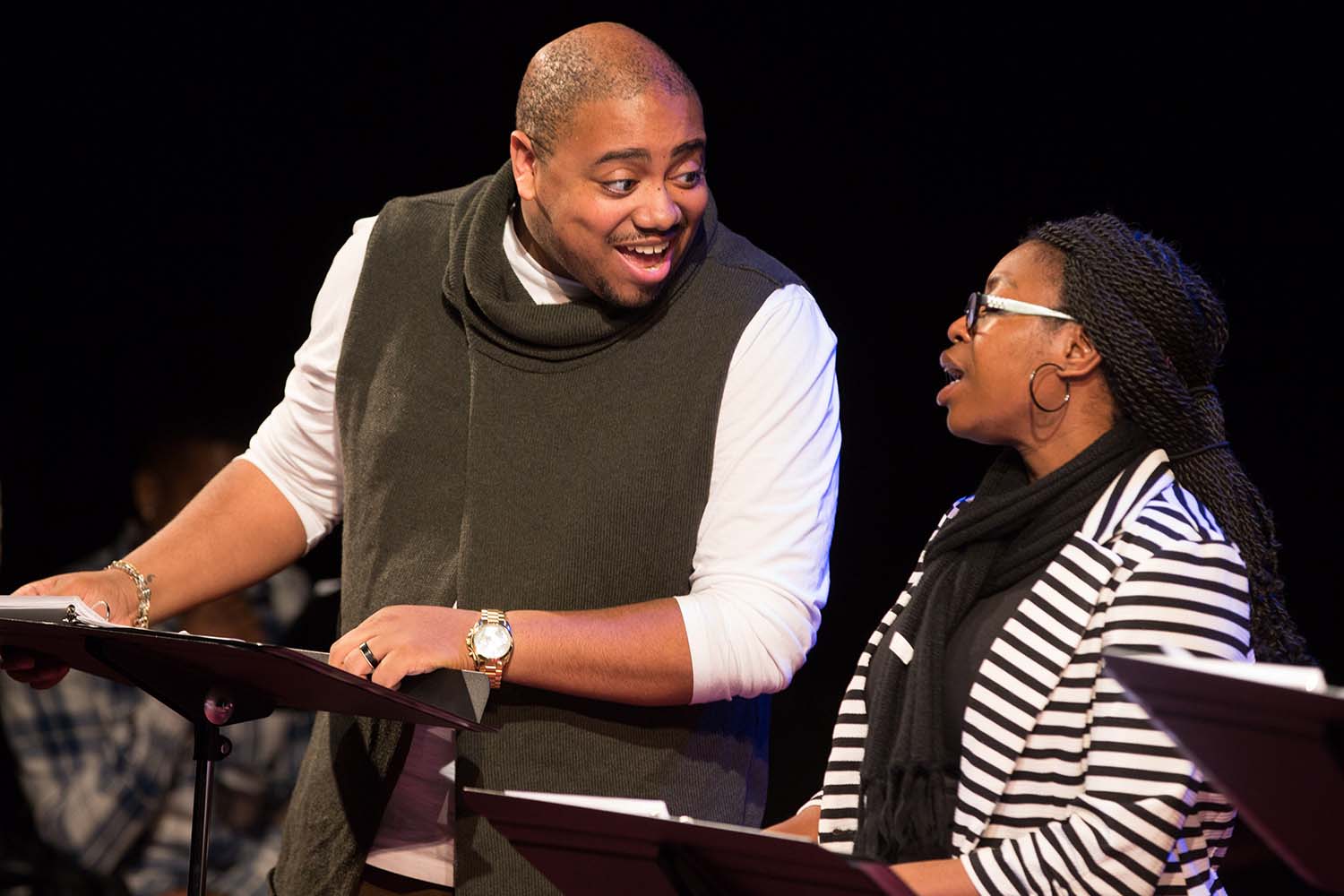 Jared Shamberger and Dannielle Hutchinson in Single Stream by Skye Landgraf. A young woman and her partner struggle with how much responsibility they share in climate change, recycling and the effects of water pollution.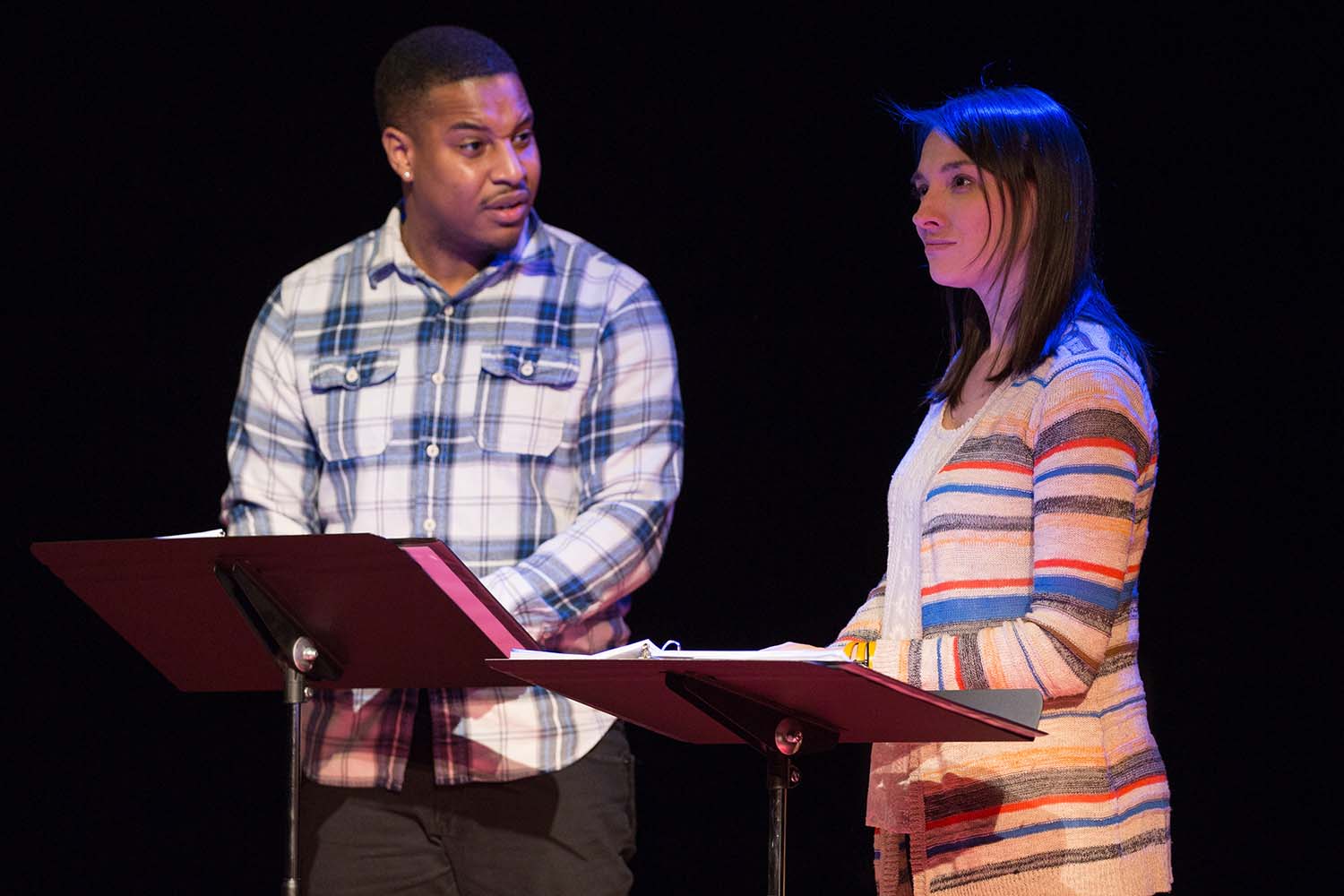 Gary Perkins and Jennifer Osborn in Blk Water by Avery Collins. Two young men develop a friendship in the midst of police discrimination, race-class privilege and the struggle to find accessible water.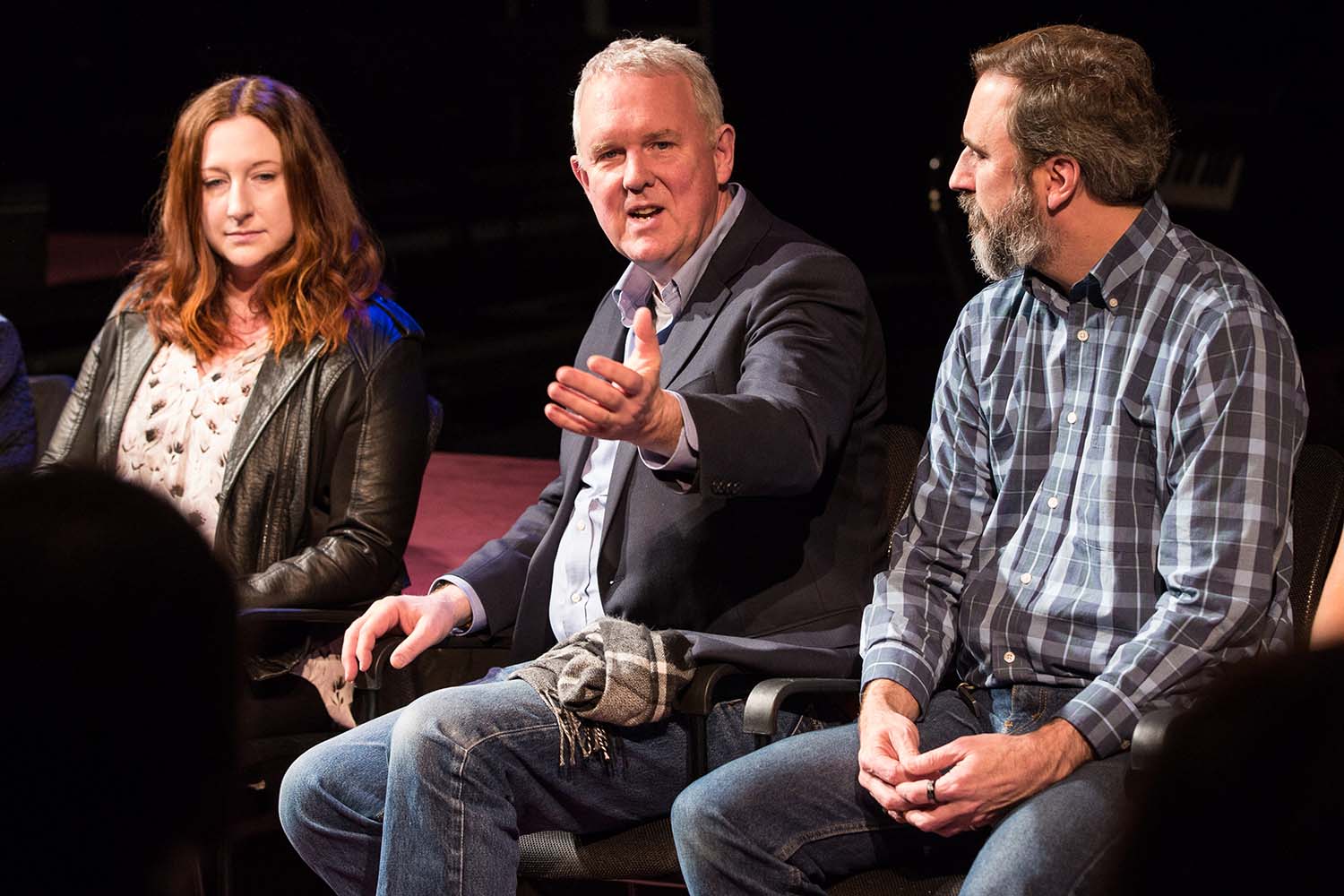 Tommy Wells (center), Director of the District of Columbia Department of Energy and Environment led a post-performance discussion about the Anacostia Watershed and the efforts to restore its health.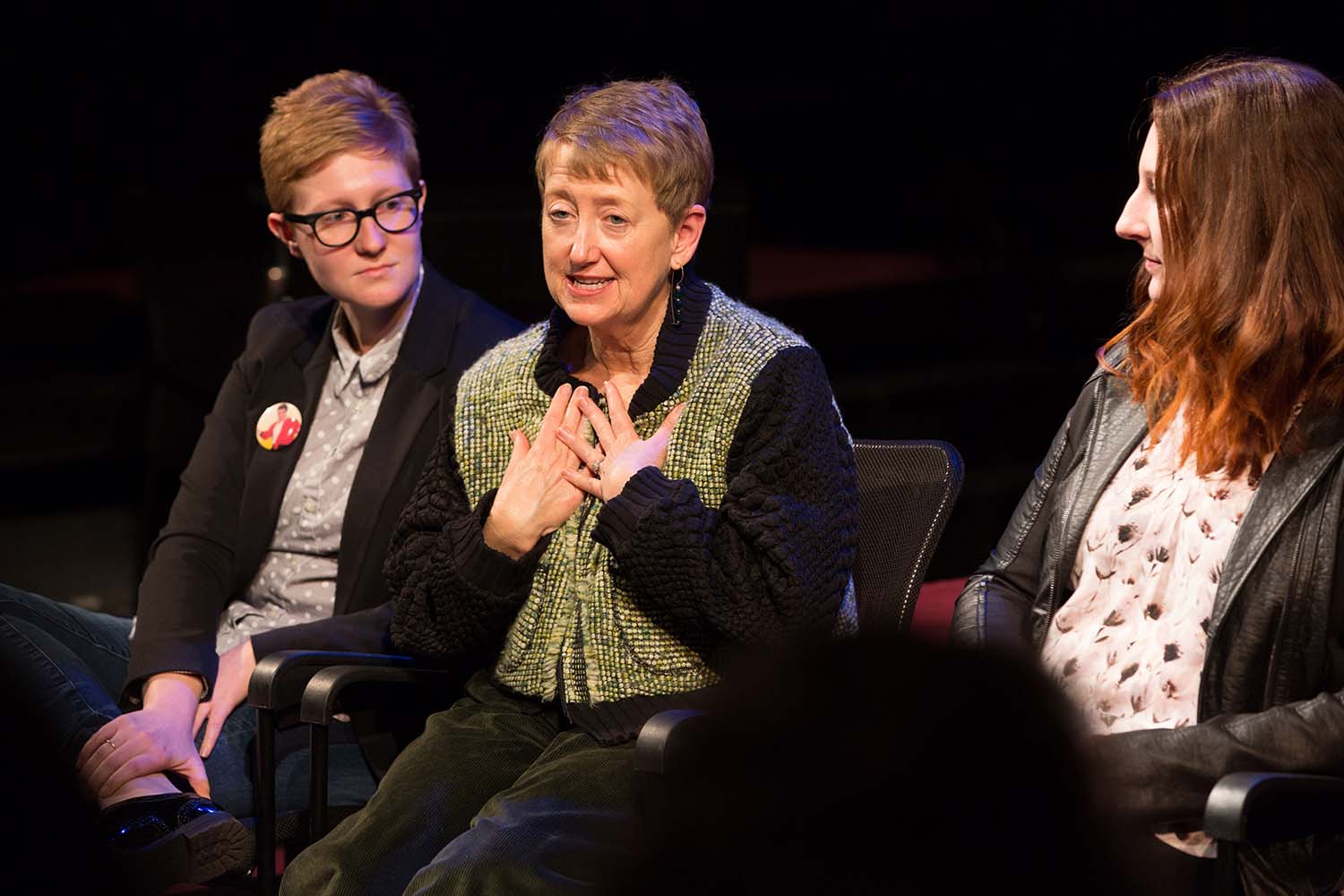 Playwright Kitty Felde (center) spoke about her play Kenilworth inspired by and set on the banks of the Anacostia River.
Photos by teresawoodphotography.com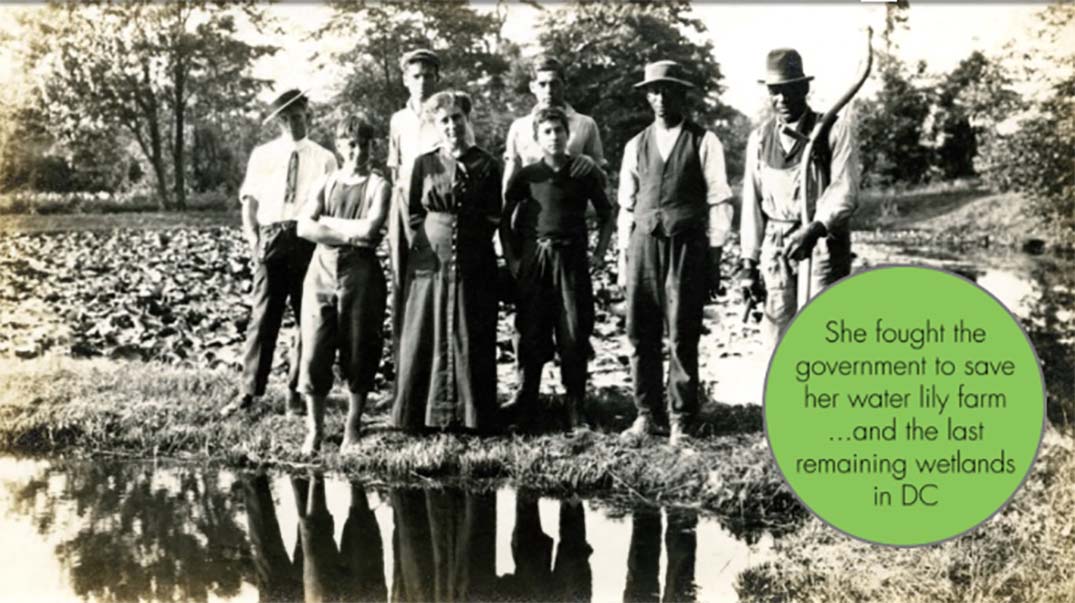 Kenilworth, by Kitty Felde, was originally commissioned by Planet Earth Arts for its Washington, DC New Play Festival at Theater Alliance and the Kennedy Center Millennium Stage. It was subsequently developed into a fulllength, telling the dramatic true story of Helen Foster Shaw and her courageous battle with the Army Corps of Engineers to protect her water lily farm within the marshes of the Anacostia River.
Just imagine
Waking up one day,
Looking out your window starting to say . . .
No bad smells
No smoke
No noise
No trash
No junk
No muddy waters
Just imagine
No dead birds because of
No dead trees because of
No dead people because of
No place to play because of
Be happy! 
Be safe!
And just imagine a kid
Living by the Anacostia River
    —El'Jay Johnson, age 8
PLANET EARTH ARTS – The Earth is a work of art. Protecting her is the work of artists.
Planet Earth Arts is sponsored by Earth Island Institute, a (501)(c)(3) non-profit organization. Planet Earth Arts and Planet Earth Arts New Play Festival are made possible by the generous support of Stanford University, University of California, Berkeley and William and Flora Hewlett Foundation. Planet Earth Arts New Play Festival is a collaboration with PlayGround, the National Center for New Plays and the Kennedy Center American College Theater Festival.